Overview
Jamjoom Pharmaceuticals Factory Company (Jamjoom Pharma) is a Saudi joint-stock company established operations in 2000G to provide high-quality pharmaceutical products for consumers. The Company's main business activities comprises the development, manufacturing and marketing of a wide range of high-quality branded generic pharmaceutical products. Its primary operating production facility is a 46,500 m2 state-of-the-art manufacturing plant in Jeddah, Saudi Arabia with a production capacity of 113 million units per annum.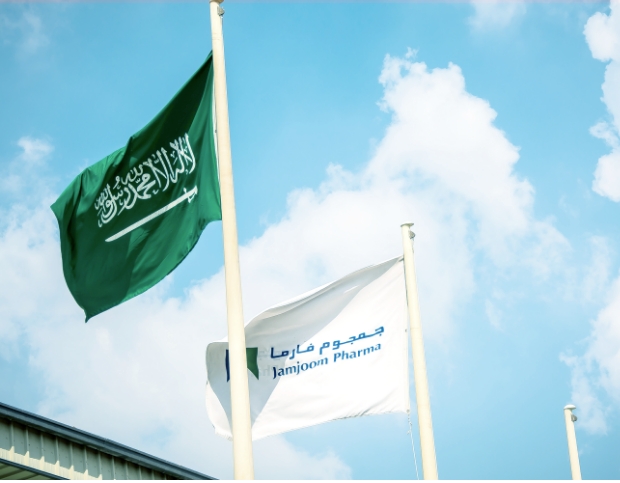 Message from the Leadership
Mahmoud Yousuf Salah Jamjoom
Chairman of Jamjoom Pharma
"Over two decades, it all started with a dream of bringing global best practices to the local pharmaceutical manufacturing industry. Today, we continue to realize that vision, and have achieved the necessary building blocks to become a key player in certain specialties within the sector. Listing on the Saudi Exchange marks a steppingstone in establishing Jamjoom Pharma as a leader in the regional pharmaceutical industry."
"The listing on the Saudi Exchange marks another important milestone in Jamjoom Pharma's development journey. We are well positioned to realize our ambition of becoming a leading pharmaceutical manufacturing organization while providing customers with affordable, high-quality healthcare solutions across the Middle East and Africa region while continuing to aspire to extend our services to a broader international customer base. We remain dedicated to maximizing value creation for our stakeholders by exploring new avenues to channel evolution and to sustainable growth."
Watch now
Tarek Hosni
CEO of Jamjoom Pharma
Initial Public Offering
Jamjoom Pharma intends to offer 30% of its share capital through an initial public offering (IPO) and listing of shares on the Main Market of the Saudi Exchange.
All the Offering Shares will be offered to individual and institutional investors (including institutional investors outside the United States), with a claw-back by the retail investors of up to 10%, as determined by the Financial Advisors.
21,000,000
ordinary shares will be listed on the Saudi Exchange's Main Market
30

%

of Jamjoom Pharma's issued share capital of 70,000,000 shares, offered by the current shareholders
100

%

or 21,000,000 Offer Shares will be offered to institutional investors*
10

%

Or 2,100,000 shares will be offered to retail investors and may be clawed back
* Subject to a 10% claw back
Transaction Milestones
Frequently Asked Questions
Where does Jamjoom Pharma plan to list?
The Shares will be listed on the Main Market of the Saudi Exchange.
Please contact one of the selling agents listed: J.P. Morgan Saudi Arabia Company and Saudi Fransi Capital (Lead Manager), as the Joint Financial Advisors, or Al Rajhi Capital, J.P. Morgan Saudi Arabia Company and Saudi Fransi Capital as the Bookrunners, and Underwriters, can advise you on the process to invest. Further details will be disclosed in the prospectus in due course. We also recommend discussing your investment related queries with your financial advisor.
Who is eligible to subscribe to the offering?
Subscription to the offer is available to: (1) Participating Parties: This tranche comprises investors eligible to participate in the book-building process in accordance with the Book-Building Instructions and Allocation of Shares in IPOs as issued by the Capital Market Authority; and (2) Retail Investors: This tranche includes Saudi natural persons, any non-Saudi natural person who is resident in the Kingdom and any national of countries of the Cooperation Council for the Arab States of the Gulf. Further details will be disclosed in the prospectus in due course.
What is the final offer price of the transaction?
The final offer price for the Offering has been set at SAR 60 per share, implying a market capitalization of SAR 4.2 billion (USD 1.12 billion) at listing.
Jamjoom Pharma in Numbers1
36
Countries with existing operations
#1
Consumer health company in KSA
>
100
Brands registered in KSA
SAR
917

mm

Revenue, a growth of 25% YoY
SAR
260

mm

EBITDA, a growth of 21% YoY
SAR
172

mm

Free Cash Flows2, a growth of 89% YoY
1 Based on audited FY 2022G results
2 Calculated as EBITDA less Capital Expenditures
3 The figure includes non-recurring items of SAR 48 million relating to foreign currency transaction differences from the EGP FX devaluation in FY2022G and SAR 9 million relating to an impairment of a loan receivable in Algeria. Excluding these non-recurring items, Net Income for 2022G would have been SAR 228 million, representing YoY growth of 34%
Investment Highlights
A key player in the pharmaceutical industry
A leading MEA branded generics player operating in a large and growing addressable market, protected by significant barriers to entry.
‍
Jamjoom Pharma is a leader in the MEA generics market in several therapeutic areas across different markets, with a direct and indirect presence in 36 countries within the MEA region, more specifically in main markets of Saudi Arabia, the United Arab Emirates, Egypt and Iraq.
As of 2021G, Jamjoom Pharma is the second largest generics manufacturer in the Kingdom due to its deep understanding of the demand dynamics of the MEA market, which has been amassed from its longstanding experience and presence in these markets.
The Company has been the second most prescribed pharmaceutical manufacturer in Saudi Arabia for the last three years (2019G-H1 2022G).
It owns a broad portfolio of high quality and differentiated branded generic pharmaceutical and consumer health products in each therapeutic area.
Its position in the Kingdom's generics market gives it an advantage over international competitors as the KSA government continues to actively promote and support local production of critical healthcare products, in line with the Vision 2030 objectives.
Jamjoom Pharma is one of the few players that has a large established sales force operating in its markets.
‍
Proven R&D track-record with outstanding product development capabilities
Proven R&D track-record with outstanding product development and substantial white space opportunities to tap into new therapeutic areas.
‍
Jamjoom Pharma has a proven track-record of bringing high-quality and differentiated products to its markets which has helped to drive absolute and market share growth.
It has a large R&D team of over 90 scientists and PhD graduates, providing it with a unique pool of pharmaceutical talent in the region and has a successful track record of bringing products to market in all the regions it operates in.
It has received over 400 product approvals between 2019G and 2022G, and its approved products have a bioequivalence success rate of 94%.
Jamjoom Pharma was successful in launching 17 new products in 2021G and has 72 new products in the pipeline, 64% of which have either been submitted for approval to the Saudi Food and Drug Authority (SFDA) or are close to submission. The new products are a material factor in the growth of the Company's business as they have contributed to 4%, 8% and 18% of the Company's total revenues in KSA in the financial years 2019G, 2020G and 2021G, respectively.
‍
A well-established and diversified portfolio of specialized products
A diversified portfolio offering with proven leading positions in key categories, benefitting from high brand awareness and sold through a targeted commercial footprint.
‍
The Company is the largest pharmaceutical exporter in the Kingdom.
Jamjoom Pharma owns a specialized portfolio of well-established and differentiated products across eight therapeutic areas including ophthalmology, dermatology, consumer health, general medicine, gastrointestinal, cardiovascular, over the counter, and central nervous system. More recently, the Company launched the anti-diabetic therapeutic area in line with its strategy to capitalize on growth opportunities in new therapeutic areas. Furthermore, the company has reclassified some of its products which has resulted in the formation of the Pain & Inflammation therapeutic area and the distribution of over the counter products in to their relevant therapeutic areas.
It has successfully grown its market share to number one and number two in the KSA ophthalmology and dermatology segments respectively due to its policy of seeking to produce high quality products to address gaps identified in the market.
It held the position of fourth largest provider (by value) of gastrointestinal products in KSA for the period between January 2022G and May 2022G, and expects to continue capitalizing on this momentum through the ongoing success of popular products, such as Dompy and Zoron.
It intends to continue to strengthen its position in the KSA ophthalmology market following the launch of a dedicated ophthalmology sterile manufacturing plant in Jeddah in H2 2023G.
The Company plans to build on its success in the KSA dermatology market with a highly effective skin disease portfolio of 14 brands that account for 19% of total revenue, as of 31 December 2021G.
It offers a well-established range of general medicine (incl. Pain & Inflammation) products through 15 trusted brands and plans to accelerate its growth in this segment through continued expansion of the product range in the coming years.
It holds the third ranking in the consumer health segment in KSA producing an assortment of relevant products including Omega-3, vitamins, minerals and herbal supplements under 31 brands.
‍
State of the art manufacturing and highly efficient operations
State-of-the-art manufacturing facility and highly efficient operations locally and internationally.
‍
The Company operates a modern manufacturing facility in Jeddah, KSA and is in the process of constructing an additional facility in Cairo, Egypt (expected to open during the second half of 2023G) and a sterile facility in Jeddah (expected to open during the second half of 2023G).
Its main facility in Egypt is intended to become the hub for production and distribution of its entire product range across the African markets. Being located in Egypt and becoming a local producer allows the Company to benefit from regulatory incentives offered by the Egyptian government for local producers.
The facilities being built are fully fitted out with world-class machinery and equipment and when operational will give the Company a total combined production capacity of 190 million units per annum, accommodating the significant increase in volumes expected over the coming years, including expansion of the product range across all therapeutic areas and new entry into additional therapeutic areas.
The Company is able to operate its current facilities to manufacture 100% of its products whilst incurring only modest maintenance capital expenditures amounting to 1.8% of revenue (as of 31 December 2021G) contributing to its strong free cash flow generation.
Its ISO-certified facilities operate in accordance with international best practices, as evidenced by its track-record of zero manufacturing interruptions since inception and ongoing compliance with industry regulations.
‍
An attractive and robust financial profile
An attractive financial profile with robust and sustainable growth prospects.
‍
Jamjoom Pharma has held a strong top-line performance over the years mainly driven by organic growth, portfolio expansion and expanding its geographic footprint in the long term.
The Company has achieved a robust EBITDA margin profile having ranged between 28-34% across the historical period of 2020G and 2022G.
Revenues have demonstrated high resilience throughout the Covid-19 period as they remained stable despite unprecedented local and global disruption.
It boasts industry-leading margins, and its operational excellence provides it with important commercial and strategic advantages when seeking new market opportunities.
It has consistently delivered strong free cash flow throughout its history, which has become a key strength in the marketplace.
The Company has pursued a highly disciplined capital policy and developed over time without resorting to substantial debt financing.
‍
Experienced management team from leading global pharmaceutical companies
The management team carries substantial experience from leading global pharmaceutical manufacturing companies.
‍
The Company's leadership team adopts a hands-on approach where its reach extends throughout the whole organization as it guides and supports the firm's overall evolution across every function.
The team possesses a wealth of knowledge and expertise in the local and international pharmaceutical sector.
Resources were strategically deployed in key markets, resulting in a redirected focus on enhancing the quality of production and distribution processes, while expanding its market share in core markets for continued growth and success.
‍
Contacts

Lead Manager
Jamjoom.IPO@Fransicapital.com.sa
Communication Advisor
jamjoompharmaipo@fgsglobal.com
Joint Financial Advisors


Bookrunners and Underwriters



Receiving Banks